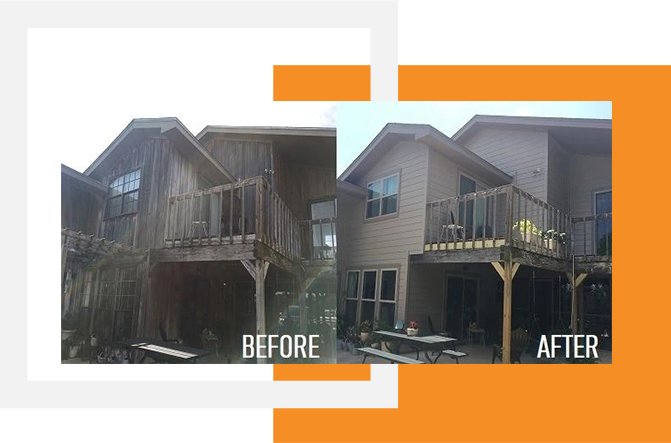 High-Quality Work on
Siding, Roofing, Windows, and More
If you want high-quality work at an affordable price, Harris Home Exteriors, LLC is the company to choose. Our craftsmen are highly skilled and know how to do the job right. Quality of construction is at the heart of what we do.
Another popular brand of siding is Hardie Plank Siding. The installation process for Hardie Plank begins with removing your siding and making repairs to your existing structure. We then insulate and protect your home with a layer of Tyvek Thermawrap. At this point, the siding is ready to be professionally installed. Once the siding is installed, we finish by painting it with high-quality paint in the color of your choice.
Does your siding need to be replaced? We use Alcoa vinyl siding, which is of the finest quality and comes in a rainbow of colors. Before the siding is installed, our professional crew will repair rotted or damaged areas, including wood and fascia boards.
With years of professional and certified residential roofing installations, we take immense pride in our work and put our customers first. You can rest assured that Harris Home Exteriors, LLC is dedicated to your satisfaction with the complete job. We have our own local Austin crew of highly trained roofing professionals, ensuring prompt and proper installation of only the best materials. Our success is due to referrals and repeats business.
Is it time to replace the windows in your home? Our windows offer excellent insulation, blocking the heat from the sweltering Texas summers, and keeping your home cozy and warm during cooler weather. Give us a call for free estimates on either our vinyl or aluminum windows.
One of the nicest features of living in Texas is spending time outside in the beautiful weather. Decks and patios are a great asset in entertaining and enhancing the outdoor experience in your home. Harris Home Exteriors, LLC can custom design and build a deck and patio suited exactly to meet your needs and desires.
Patio covers also add to the enjoyment of sitting outside with guests or with your family. We can create and erect beautiful patio covers over any type of patio, whether it's an existing concrete patio or a newly built deck.
Be sure to check out our gallery page to see the difference that Harris Home Exteriors, LLC can make!